"I have to say you guys pulled off a miracle. I never ever thought I could get 5 years of pet "secrets" out of my basement concrete but you DID! THANK YOU. After the cleaning, we got an offer on the house on the next few showings!"

Mark Albert
Avon, CT
Not all carpet cleaners stack up the same. We are certified, insured and have over 15 years experience cleaning carpet. Our 16' trailer is equipped to handle any situation with state of the art equipment and cleaning agents. Our equipment can maintain solution temperatures up to 250F (121C) to help sanitize and reduce the use of excess detergents. This is REAL STEAM (as opposed to a hot water spray) which means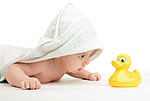 a lot of water is not soaking your carpet, the soils are whisked away, and germs are killed. Period. It's not the cheapest system on the market to own, but quality and performance has it's worth.

Our cleaning prowess and sharp business skill also translates into the commercial carpet cleaning world. If you own a business and want the job done right the first time - every time with results beyond what you are used too, give us a call and we will do the rest.

Visit our Carpet Cleaning Facts page for more in-depth information and educate yourself on how to hire a real pro: Click Here

See a video of our steam cleaning in action. If you've never seen steam pour off the carpet tool like this...you've never had REAL steam cleaning!

Click Here For Video 1
Click Here For Video 2
The same state-of-the-art equipment that allows us to get carpet so clean also means we clean tile,
grout and natural stone like no one else! Having started in the Orlando area servicing many popular resorts and restaurants we know what it takes to make your tile, grout and natural stone be at its best.

Tile, grout and stone care is an exact science and chemistry. (Did you know, the cleaner that makes your grout beam like new will destroy many natural stones such as marble?) ONLY through years of training are we able to extract results above and beyond our competition.

The normal response to our tile and grout cleaning is usually "WOW- HOLY COW... WOW" followed by a small happy dance.


Click Here To See A Video Of Tile Cleaning In Action!

Click Here To See A Video Of Marble Cleaning In Action!

The movies may take a minute or two to download - please be patient!

Grout by nature is very porous which means it absorbs everything! Unsealed grout will stain and soil over time - to the point you will not be able to clean it with household cleaners and no matter how hard you scrub it will take a professional cleaning to bring it back to life.

After your grout has been newly installed or professionally cleaned - taking the extra step to seal it will prevent stains and heavy soiling. Cleanup is now a mop and a bucket with simple regular bi-annual upkeep on the sealer. It not only looks better, it's more sanitary as well.

We can also change the color of your grout while sealing. You can take a mauve and turn it into a cream...or a light grey into a dark slate. If you have recently patched a grout area and it's not matching the old grout very well, dying all the grout will unify the coloring and make it match.

"Jay, I want to thank you for the job you did on our entire home. The place looks beautiful and our daughters engagement party went off without a problem."

Cindy Goldberg
Glastonbury, CT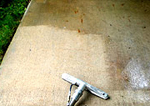 With our tile and natural stone equipment we can clean concrete basements, patios, pool decks etc like no other can! Yes we can steam clean your basement floor spotless and like new with no mess leftover!
We perform a multi step process which includes a 1500psi power steam wash and extraction which pressure washes and extracts in one clean swipe.
What this means to you is no water build up in your basement, and/or no power washing runoff going into your pool or landscaping. We extract and take the mess with us in one stroke of our wand.

Got stains in that nice sofa? Is it just looking a little tired? A proper cleaning will do wonders to bring it back to life!

Our state of the art Hydro-Kinetic upholstery cleaning tool actually lifts the material away from the foam to prevent over wetting (The number one problem in upholstery cleaning). The design of the tool is so unique, it is patented. (U.S. Patent no. 825,623)
The "Hydro" principle allows us to use a higher solution pressure and a more effective vacuum pressure to achieve maximum cleaning without the fear of over-wetting. The "Hydro" principle is powerfully soft on fabrics because: 1) the angle of the spray in relation to the fabric produces a greater shear factor to remove soil from the fabric; 2) the open port air flow chamber allows a full kinetic force of cleaning solution over the surface of the fabric, not through it; 3) the open port vacuum system removes the soil and cleaning solution prior to the final vacuum suction.
(Chair in picture actually cleaned with a Hydro-Kinetic tool.)
"I scrubbed and scrubbed my tile floor before I called you. I now realize that there is a large difference between 'cleaning' and 'professional cleaning'. Thanks for the great service."

Margie Anderson
Simsbury, CT